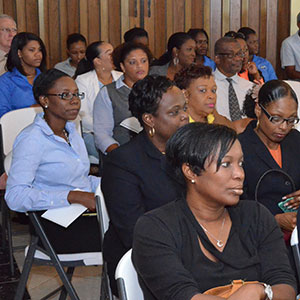 The Caribbean Financial Action Task Force (CFATF), in collaboration with the Anguilla Financial Services Commission, conducted an Anti-Money Laundering and Combatting the Financing of Terrorism (AML/CFT) Training Conference for financial service providers on Friday, 8 May 2015 at the Blue Ridge Conference Center.

The conference titled "AML/CFT Compliance vs Complacency" was an intensive journey in which around eighty participants from the financial sector were part of important discussions about the implementation of the FATF Standards in Anguilla. H.E Governor Christina Scott, and Comptroller of Inland Revenue Perin Bradley on behalf of the Ministry of Finance, reiterated the Government of Anguilla's commitment to meeting international financial standards. The conference was facilitated by Ana Folgar and Jefferson Clarke of CFATF who presented the following topics: Reliance on Third Parties, Customer Due Diligence and Ongoing Due Diligence as well as Risk Assessments.

The timing and content of the conference were significant as Anguilla exits the 3rd round of Mutual Evaluations and prepares for the 4th round of Mutual Evaluations during which Anguilla will be assessed by CFATF for the effectiveness of its AML/CFT practices.