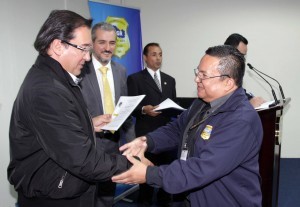 The Prosecutor General of the Republic and CFATF Deputy Chair, Lic. Luis Antonio Martínez, closed the workshop seminar "Exploiting the use of Cash Flows with Foreign countries and Cross-border Cash and the Prevention of Money Laundering and the Financing of Terrorism". Professionals from the Ministry of Finance, National Civil Police (PNC its acronym in Spanish), Office of the Attorney General of the Republic, Judges and from the Central Reserve Bank all participated in the workshop.
Participants at the workshop were trained by Andrés Martínez Calvo and Mariano García Fresno, both recognized international consultants of the Ministry of Economy of Spain on the issue of laundering of money and assets.

"To deal with money laundering, we must apply collective efforts, both domestically and internationally, if we hope to win the war against this scourge," said Prosecutor Martínez.

Participants received Certificates of participation from the Attorney General and the international consultants in the workshop which lasted five days, on the premises of the Escuela de Capacitación Fiscal (Prosecutor Training School).

"Through seminars and workshops like this, we seek to share our skills and best practices and share experiences with professionals like you; on how to stop financial crime" concluded Martínez.